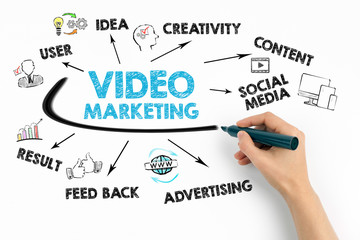 Video marketing has grown exponentially over the years. Over one billion 300 hours of video content uploaded to YouTube every minute,  one of the most astounding online video consumption statistics is nearly 5 billion hours of video content watched daily. Some new social media platforms have more users than older sites such as  LinkedIn, Pinterest, Instagram and Twitter. 
Some marketers are using videos in a variety of ways to promote their products and services. If your audience can see your product at work with eyes, or testimonials from previously satisfied customers, it will help them to build trust in your brand. If you are looking for a high ROI, video marketing is the solution for you.
Inform and educate:
97% of marketers say videos help customers understand products. For the most part, marketers no longer take a pitching-type approach – the reason? Consumers and businesses just don't need to be sold, they do a quick internet search to find the best product in their neighborhood or even the world where they will order online. To that end, marketers in many fields need to approach audiences with a value-based offer instead of a "sale." Videos are great for giving customers a very close look at a product, service, or even an influencer or teacher.
High in demand:
The preference for video content is not limited to entertainment purposes only. The video extends to brands. With the growing demand for video, many influencers in the industry can be seen as proactively producing different types of video content in order to meet this growing need. Respondents to this survey claimed that video content is more in demand because people are more likely to pay attention to it. For brands to gain more audience attention, video is a good solution.
Staying competitive:
Videos are amazing for spreading all kinds of messages, and if we think in terms of practicality, a short, unique how-to video can make all the difference when it comes to educating people on the ins and outs of your product. particular. By using unique storytelling and media types, you can easily grab people's attention and hold it while they are truly entertained. Depending on how it matches your product, you might want to use an animated or illustrated explainer video to make yourself stand out from the crowd.
Video marketing gaining profit:
Businesses are using video marketing to increase sales, build brand awareness and confidence, to keep current customers informed, and to reach potential customers. The most common platforms used by marketers to post social media marketing videos and video ads are Instagram, YouTube, and Facebook. One of the main reasons video marketing is favoured as a marketing tool is because of its potential to explain everything in a format preferred by users – the visual format. Tutorials or how-to videos are particularly popular with end-users.
Consumers like to watch videos on social media:
Users are seeing videos increasingly on every platform. Whether it's on blogs or YouTube, they are expecting more video content. Based on the 2018 State of Social Video Marketing Trends report,  80% of consumers claim that they have been influenced by a brand's social media presence when making a purchasing decision. 
Best Practices Video Marketing Tips:
How do you actually make an engaging and optimized video? Here are a few tips.
Instagram: 30 seconds

Twitter: 45 seconds

Facebook: 1 minute

YouTube: 2 minutes
To ensure the best engagement and accessibility, as well as boost your SEO, you can also use captions for autopay and keep the video silent if it's on a landing page. You'll also want to make sure your video is still mobile-friendly. In order to understand the performance of your videos, apply good SEO standards and always check your metrics. You can develop a standard library of various videos and keep them organized on YouTube and then embed them into various forms of content such as blogs and emails.
Conclusion:
Video marketing is one of the most popular forms of content in the world, it probably won't be anywhere soon. In a digital world, we crave connection and personality. We want to see and hear people in a real context – this is meaningful. Video isn't just fun, it really is one of the best ways to connect with your audience and give them a real insight into what you and your business or customers are doing. The key here is to think beyond profit and product – show them something about your philosophy, or share information about an interesting event, or offer valuable information.